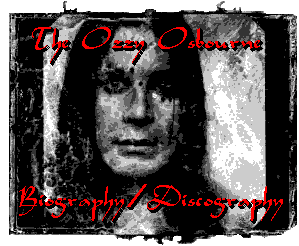 Search by subject, or just read the whole thing!
Note! This page takes a long time to load, but it's worth the wait, be patient!
---
***** 1948 - 1967 ***** JOHN MICHAEL OSBOURNE WAS BORN TO JOHN THOMAS OSBOURNE AND HIS WIFE LILLIAN ON DECEMBER 3RD,1948 IN BIRMINGHAM,ENGLAND AND LIVED AT 14 LODGE RD,ASTON.

JOHN THOMAS WAS A PROFESSIONAL TOOL MAKER AND LILIAN WORKED IN THE LUCAS CAR ASSEMBLY PLANT. JOHN WAS 0NE OF 3 BROTHERS AND 3 SISTERS, HIS TWO BROTHERS NAMED PAUL AND TONY, AND HIS THREE SISTERS NAMED JEAN, IRIS, AND GILLIAN. JOHN WAS NICKNAMED "OZZY" ON THE SCHOOL PLAYGROUND, SHORT FOR HIS LAST NAME "OSBOURNE"

OZZY CAME FROM A VERY POOR FAMILY. HE ONLY HAD ONE PAIR OF SOCKS,ONE PAIR OF PANTS,ONE SHIRT, AND A JACKET. HE HAD NO INDOOR PLUMBING AND NO INDOOR BATH ROOM. HE SLEPT IN ONE BED WITH ALL OF HIS BROTHERS AND SISTERS. OZZY QUITS SCHOOL AT THE AGE OF 15 AND STARTS WORK AS A PLUMBERS MATE, DELIVERING,ETC. HE HATES THIS SO HE GETS A JOB IN A SLAUGHTER HOUSE, KILLING 250 CATTLE A DAY AND CUTTING SHEEP GUTS OUT. HE GETS SICK OF THAT GETS A JOB TESTING CAR HORNS WHERE HIS MOTHER WORKED. OZZY IS DISATISFIED WITH THE LOW INCOME HE'S EARNING SO HE TURNS TO CRIME. OZZY KNOCK'S OVER SMALL CLOTHES SHOPS AND PRIVATE HOMES. HE KEEPS GETTING CAUGHT THOUGH BECAUSE HE WEARS GLOVES WITH THE FINGERS CUT OFF - SO THE COPS ARE WISE TO HIS FINGERPRINTS! OZZY IS SENTENCED TO SPEND 6 WEEKS IN JAIL. IN JAIL OZZY TATTOO'S HIMSELF WITH A NEEDLE AND GRAPHITE THE NOW FAMOUS O-Z-Z-Y ACROSS HIS FINGERS AND A HAPPY FACE ON BOTH KNEE'S TO CHEER HIM UP WHEN HE WAKES UP IN THE MORNING.
***** 1967 - 1968 ***** IT ALL STARTED WITH WITH BILL WARD AND TONY IOMMI JOINING TOGETHER IN A GROUP CALLED THE REST. WHICH LATER CHANGED IT'S NAME TO MYTHOLOGY. OUT ON THE STREET OZZ MEETS AN OLD FRIEND WHO JUST PUT TOGETHER A BAND CALLED APPROACH,BUT HAD NO SINGER. "I'M A SINGER!" OZ SAYS,SO HE GOES AND BUYS AN AMP AND 2 MIC'S AND JOINS THE BAND. OZZ DOESN'T LIKE APPROACH SO HE QUITS AND JOINS MUSIC MACHINE. OZZY THEN HOOKS UP WITH GEEZER BUTLER AND CREATES A BAND CALLED RARE BREED. RARE BREED DOESN'T LIFT OFF THE GROUND SO OZZY PUTS OUT AN AD IN A LOCAL PAPER SAYING OZZY ZIG,VOCALIST,REQUIRES BAND. OWNS OWN P.A. BILL AND TONY SEE THIS AD AFTER DUMPING TWO PEOPLE IN MYTHOLOGY AND REPLY TO IT. SO BILL,TONY,OZZY AND GEEZER ALONG WITH JIMMY PHILLIPS AND CLARK JOIN TOGETHER TO CREATE RARE BREED. RARE BREED TURNS INTO POLKA TULK. POLKA TULK CAME FROM A CAN OF TALCUM POWDER THAT OZZY SAW IN A BATHROOM. PHILLIPS AND CLARK WERE MORE INTO BLUES MUSIC SO THEY QUIT THE BAND LEAVING TONY IOMMI,BILL WARD,OZZY OSBOURNE AND GEEZER BUTLER BEHIND. POLKA TULK CHANGES IT'S NAME TO EARTH.
***** 1969 *****




ONE DAY AN OLD HORROR MOVIE WAS PLAYING AT A LOCAL THEATER BY THE NAME OF
BLACK SABBATH. THE BAND ASKED ITSELF,WHY WOULD ANYBODY GO PAY HARD EARNED
MONEY TO GET THE CRAP SCARED OUT OF THEM? SO THE BAND DECIDED TO START
PLAYING DOOMSEY,DARK MUSIC AND CHANGE THE THEIR NAME TO BLACK SABBATH.
THE BAND FINDS A MANAGER BY THE NAME OF JIM SIMPSON. JIM IS INTO JAZZ/BLUES
MUSIC SO THE BAND RECORDED A SHORT DEMO LP FOR HIM CALLED "FOR JIM". THIS
RARE RARE ALBUM (WHICH I AM STILL LOOKING FOR A COPY OF!) CONTAINS THE ONLY
JAZZ SESSION EVER RECORDED BY BLACK SABBATH. IT FEATURES TONY IOMMI PLAYING
WITH THE STYLE OF WES MONTGOMERY AND BILL WARD BACKING HIM UP WITH BEBOP
DRUMS.
NOW PLAYING SMALL CLUBS,THE BAND IS GETTING ANNOYED AT THE AUDIENCE BECAUSE
THEY ARE NOT PAYING ATTENTION. ONE NIGHT OZZY DECIDES TO PAINT HIMSLEF
PURPLE TO ATTRACT SOME ATTENTION,AND THE FUNNY THING IS...IT DIDN'T WORK! IT
TOOK OZZ ABOUT 4 HOURS TO GET IT ALL OFF! THE BAND SOON FINDS OUT THAT BY
CRANKING UP THE AMPS, THE AUDIENCE CAN NOT EVEN HERE THEMSELVES TALK AND
ARE FORCED TO LISTEN!

***** 1970 ****

FEBRUARY,FRIDAY THE 13TH,1970 BLACK SABBATH IS RELEASED. IT TOOK THEM 8 HOURS TO RECORD IT ON 2 4-TRACK MACHINES AND COST AROUND $1200. ON THE GATEFOLD OF THE ALBUM, THE RECORD COMPANY CHOSE TO PUT AN UPSIDE DOWN CROSS WITH A POEM IN IT. ANYONE SEEING THIS ALBUM AUTOMATICALLY ASSOCIATED THE BAND WITH SATANISM. THE BAND HAD NO IDEA THEY DID THIS. HERE IS THE POEM: "STILL FALLS THE RAIN" STILL FALLS THE RAIN, THE VEILS OF DARKNESS SHROUD THE BLACKENED TREES, WHICH,CONTORTED BY SOME UNSEEN VIOLENCE, SHED THEIR TIRED LEAVES,AND BEND THEIR BOUGHS TOWARD A GREY EARTH OF SEVERED BIRD WINGS. AMONG THE GRASSES, POPPIES BLEED BEFORE A GESTICULATING DEATH, AND YOUNG RABBITS, BORN DEAD IN TRAPS, STAND MOTIONLESS, AS THOUGH GUARDING THE SILENCE THAT SURROUNDS AND THREATENS TO ENGULF ALL THOSE THAT WOULD LISTEN. MUTE BIRDS, TIRED OF REPEATING YESTERDAYS TERRORS, HUDDLE TOGETHER IN THE RECESSES OF DARK CORNERS, HEADS TURNED FROM THE DEAD, BLACK SWAN THAT FLOATS UPTURNED IN A SMALL POOL IN THE HOLLOW. THERE EMERGES FROM THIS POOL A FAINT, SENSUAL MIST, THAT TRACES ITS WAY UPWARDS TO CARESS THE FEET OF THE HEADLESS MARTYR'S STATUE WHOSE ONLY ACHIEVEMENT WAS TO DIE TOO SOON, AND WHO COULDN'T WAIT TO LOOSE. THE CATARACT OF DARKNESS FORMS FULLY, THE LONG BLACK NIGHT BEGINS, YET STILL BY THE LAKE A YOUNG GIRL WAITS, UNSEEING SHE BELIEVES HERSELF UNSEEN, SHE SMILES FAINTLY AT THE DISTANT TOLLING BELL, AND THE STILL RAIN FALLING. WITH THE RELEASE OF THIS FIRST ALBUM,THE BANDS AUDIENCE BEGINS TO GROW RAPIDLY ATTRACTING ALL WALKS OF LIFE INCLUDING SELF PROCLAIMED WITCHES AND SATANISTS. THE BAND RELEASES THEIR SECOND ALBUM, PARANOID. THIS ALBUM WAS MADE IN 4 DAYS. IT WAS ORIGINALLY SUPPOSED TO BE CALLED WAR PIGS,BUT WITH THE VIETNAM WAR GOING ON OVER SEAS,THE RECORD COMPANY WOULDN'T ALLOW IT. THE BAND BY NOW HAS BECOME PRETTY WELL KNOWN. ONE NIGHT THE BAND WAS ASKED BY A WITCH TO PLAY AT A SATANIC CEROMONY,AND SOMEHOW GOT INTO A BIG FIGHT AND THE WITCH SAID SHE CAST AN EVIL SPELL OVER THE BAND. EVERYONE WAS FREAKED OUT BY THIS. OZZY ASKED HIS FATHER TO MAKE AN ALUMINUM CROSS FOR EACH MEMBER OF THE BAND TO WEAR TO KEEP EVIL AWAY FROM THEM. TO THIS DAY OZZY STILL WEARS THE SAME GOLD CROSS THAT HIS FATHER MADE FOR HIM AND IT CAN BE SEEN ON THE FRONT COVER OF HIS GREATEST HITS ALBUM - THE OZZMAN COMETH. BLACK SABBATH ALBUMS ARE SELLING MORE AND MORE AS WORD SPREADS AND AUDIENCES ARE GROWING TO OVER 20,000 PEOPLE PER SHOW. IN SEPTEMBER 1970 THE BAND DECIDES TO LET JIM SIMPSON GO AS MANAGER. THEY WEREN'T GETTING PAID WHAT THEY THOUGHT THEY SHOULD. PATRICK MEEHAN AND WILF PINE TAKE OVER.
***** 1971 ***** OZZY GETS MARRIED TO A WOMAN NAMED THELMA MAYFAIR. THELMA ALREADY HAD A BOY FROM A PREVIOUS MARRIAGE NAMED ELLIOT KINGSLEY WHO WAS 5 YEARS OLD,SO OZZY ADOPTED HIM. LATE 1971 THE MASTER OF REALITY ALBUM IS RELEASED. THIS ALBUM FEATURED A FEW SONGS WHICH WERE IN REFERENCE TO RELIGION IN A GOOD WAY, BUT RECIEVED BAD PRESS FOR PUTTING DOWN RELIGON.
***** 1972 - 1973 ***** SABBATHS 4TH ALBUM IS RELEASED ENTITLED "VOLUME 4". THIS ALBUM WAS ORIGINALLY GOING TO BE NAMED SNOWBLIND (A REFRENCE TO COCAINE USAGE) BUT THE RECORD COMPANY ONCE AGAIN WOULD NOT ALLOW IT. OZZY BECOMES A FIRST TIME FATHER TO HIS DAUGHTER JESSICA STARSHINE. OZZY BECOMES MORE AND MORE FAMOUS FOR HIS WILD ANTICS AND LEAPS ON STAGE.
***** 1974 ***** THE ALBUM "SABBATH BLOODY SABBATH" IS RELEASED. ON THIS ALBUM APPEARED THE VERY FIRST SONG THAT OZZY EVER WROTE THE MUSIC AND THE LYRICS TO, "WHO ARE YOU?"
***** 1975 *****

BLACK SABBATH ONCE AGAIN FIRES THEIR MANAGEMENT. THEY ARE GETTING RIPPED OFF LEFT AND RIGHT. NOW,THEY ARE ON THEIR OWN. THE "SABOTAGE" ALBUM IS RELEASED,WITH A SONG CALLED "THE WRIT" WHICH TELLS THEIR FEELING AGAINST PAST MANAGEMENT. OZZY BECOMES A FATHER AGAIN TO A SON NAMED LOUIS JON.
***** 1976 ***** WITH ALL THE BAD MANAGEMENT PROBLEMS AND CONSTANT TOURING OZZY TOOK SOME TIME OFF IN 1976. OZZY WENT HOME AND GOT RID OF SOME OF HIS FRUSTRATION BY SHOOTING THE CLUCKING CHICKENS AROUND HIS HOUSE! THE BAND HIRES NEW MANAGMENT BECAUSE THEY CAN'T HANDLE IT BY THEMSELVES. THEY HIRE A MAN BY THE NAME OF DON ARDEN. (DON ARDEN IS THE FATHER OF OZZYS WIFE NOW - SHARON) LATE 1976 THE "TECHNICAL ECTASY" ALBUM IS RELEASED.
***** 1977 ***** OZZY IS FED UP WITH TONY IOMMI'S CONTROL OVER BLACK SABBATH. HE IS ALSO DOING MASSIVE AMOUNTS OF DRUGS AND DRINKING. ON TOP OF ALL THIS OZZYS FATHER DIES. OZZY ANNOUNCES HE IS QUITTING THE BAND.
***** 1978 ***** SABBATH TRIES OUT A NEW SINGER BY THE NAME OF DAVE WALKER,WHO USED TO BE IN FLEETWOOD MAC. THE BAND WRITES NEW MATERIAL WITH DAVE,BUT OZZY SAYS HE WANTS BACK IN. ALL OF THE MATERIAL WRITTEN WITH DAVE WAS DESTROYED BECAUSE OZZY DIDN'T WANT TO SING ANY OF IT.

SABBATHS LAST ALBUM WITH OZZY "NEVER SAY DIE" IS RELEASED. ONE SONG ON THE ALBUM "JUNIORS EYES" WAS WRITTEN AS A GOODBYE TO OZZYS FATHER.
***** 1979 *****

OZZY IS FIRED FROM BLACK SABBATH AND IS REPLACED BY EX RAINBOW SINGER RONNIE JAMES DIO. THE DRUGS,BOOZE AND CONSTANT LACK OF INTEREST FINALLY CATCH UP WITH HIM. THIS MARKS THE LOWEST POINT IN OZZYS LIFE.
***** 1980 ***** OZZY STARTS HIS CAREER BACK UP WITH HELP FROM HIS FRIEND SHARON ARDEN. DON ARDEN STUCK WITH OZZY AS MANAGEMENT AND LET THE OLD SABBATH GO. HE PUT TOGETHER A BAND CALLED "LAW" WHICH LASTED FOR ABOUT 2 GIGS AND THEN WAS CHANGED TO THE "BLIZZARD OF OZZ". THE BAND CONSISTED OF RANDY RHOADS (EX QUIET RIOT), BOB DAISLY (EX URIAH HEEP),AND LEE KERSLAKE (EX URIAH HEEP).

OZZY HAD BEEN TRYING FOR WEEKS TO GET A LABEL TO SIGN HIM. FINALLY CBS SIGNED HIM FOR $65,000 FOR HIS FIRST ALBUM. CBS WAS HAVING A BIG CORPORATE MEETING WHERE OZZY WOULD MEET ALL THE TOP GUYS FOR THE FIRST TIME. CBS WASN'T TOO INTERESTED IN OZZY BECAUSE THEY BELIEVED THEY HAD BETTER ARTISTS ON THEIR LABEL. OZZYS WIFE, SHARON, WANTED HIM TO MAKE A BIG BANG WHEN HE ENTERED, SO SHE SUGGESTED THROWING THREE WHITE DOVES IN THE AIR WHEN HE WALKED IN. WELL, OZZY HAD A LITTLE TOO MUCH TO DRINK THAT DAY (AS USUAL),WALKED IN,SAT DOWN ON A GIRLS LAP,LET 2 DOVES GO, AND BIT THE HEAD OFF OF THE 3RD ONE. LET'S JUST SAY EVERYONE WAS IN COMPLETE SHOCK. THE PRESS WENT WILD WITH THIS,DUBBING OZZY "INSANE" AND "THE MAD MAN." THE HUMANE SOCIETY OF AMERICA WOULD SOON TRY TO BAN ALL PERFORMANCES IN THE STATES. NOW,TAKE NOTE THAT THIS ALL TOOK PLACE BEFORE OZZY'S FIRST SOLO ALBUM WAS EVEN RELEASED! OZZY WAS BANNED FROM EVER COMING BACK INTO THE CBS BUILDING BUT THEY DECIDED TO RELEASE HIS ALBUM ANYWAY. THE ALBUM ENTITLED "BLIZZARD OF OZZ" WENT PLATNIUM IN NO TIME.
***** 1981 ***** OZZY GETS A DIVORCE FROM HIS WIFE THELMA AND HIS SECOND SOLO PROJECT IS RELEASED - "DIARY OF A MADMAN" A FEW WEEKS AFTER "DIARY OF A MADMAN" IS RELEASED, KERSLAKE AND DAISLY ARE FIRED DUE TO MONEY PROBLEMS AND TOMMY ALDRIDGE AND RUDY SARZO TAKE THEIR SPOTS. OZZY CONCERTS WERE GETTING VERY INVOLVED WITH HIS AUDIENCE. AT THE END OF EACH SHOW,HE WOULD CATAPULT MEAT (AND OTHER LEFTOVERS FROM BUTCHER SHOPS SUCH AS STOMACHS AND INTESTINES) AT HIS AUDIENCE. WELL,OVER TIME HIS AUDIENCE BEGAN GETTING HIM BACK! OZZY HAD SAID IN AN INTERVIEW "WE HAD TO TURN THIS GUY AWAY FROM OUR SHOW BECAUSE HE WAS TRYING TO GET IN WITH AN OX'S HEAD, A FULL HEAD!"
***** 1982 ***** JANUARY 20TH AT A CONCERT IN DES MOINES, IOWA SOMEONE THROWS A BAT ON STAGE. STUNNED BY THE LIGHT,THE BAT LAY MOTIONLESS AND OZZY THINKING IT WAS PLASTIC, (OF COURSE HE HAD TO BE DRINKING,OR HIGH ON SOMETHING TO THINK THIS THING WAS PLASTIC!) PICKS IT UP AND BITES THE HEAD OFF OF IT. THE BAT THEN STARTED TO FLAP HIS WINGS AND OZZY SOON REALIZED IT WASN'T FAKE! AFTER THE SHOW OZZY WAS IMMEDIATELY RUSHED TO THE HOSPITAL FOR RABIES SHOTS. OZZY DESCRIBES IT AS "ONE OF THE MOST HORRIBLE,PAINFUL EXPERIENCES OF MY LIFE." FEBRUARY 1982,OZZY VISITS THE ALAMO,A NATIONAL SHRINE IN TEXAS. DRUNK IN HIS HOTEL ROOM HE DECIDES TO DRESS UP AS A WOMAN AND GO OUTSIDE TO SNAP SOME PICTURES. DURING FILM RELOADING, OZZ FELT THE NEED TO RELIEVE HIMSELF. HE WALKS OVER TO THIS HALF KNOCKED DOWN WALL AND STARTS TAKING A LEAK. THAT PIECE OF WALL TURNED OUT TO BE PART OF THE ALAMO BUILDING. OZZY WAS THROWN IN JAIL AND BANNED FROM EVER PLAYING IN SAN ANTONIO,TEXAS AGAIN. (A BAN WHICH WAS LIFTED IN 1992) MORE BAND MEMBER CHANGES WERE MADE THIS YEAR - LINDSEY BRIDGEWATER IS HIRED FOR KEYBOARDS,BRIDGEWATER LEAVES SHORTLY AFTER AND DON AIREY IS HIRED.

MARCH 19TH,1982 WOULD MARK THE SADDEST DAY IN OSBOURNE HISTORY. RANDY RHOADS IS KILLED IN A TRAGIC AIRPLANE CRASH. THE DRIVER OF THE BUS WAS A LICENSED PILOT,WHO DECIDED TO DO A LITTLE FLYING WHILE SOME OF THE BAND RESTED ON BOARD THE BUS. HE TOOK UP A SMALL ENGINE AIRCRAFT ALONG WITH JAKE DUNCAN AND DON AIREY UP FOR A LITTLE RIDE. UPON LANDING HE EXTENDS THE SAME INVITATION TO RHOADS AND RACHEL YOUNGBLOOD (A WOMAN THAT DID MAKEUP). SO THEY BOTH GO UP. THE PILOT HAD JUST GONE THROUGH A NASTY DIVORCE AND IT IS BELIEVED THAT WHEN HIS EX-WIFE HAD STEPPED OFF THE BUS HE LAUNCHED TOWARDS HER. THE WING OF THE PLANE HIT THE TOP OF THE BUS AND FROM THERE FLEW INTO A NEAR BY GARAGE AND BLEW UP. THE BUS WHERE OZZ AND THE REST OF HIS BAND LIE SLEEPING WAS BADLY DAMAGED BUT NO ONE WAS HURT INSIDE. IN AN ATTEMPT TO JUMP RIGHT BACK INTO THE GAME,OZ HIRES THE FIRST AX-MAN TO COME ALONG - BERNIE TORME (WHO LATER WENT ON TO BE WITH DEE SNYDER). HE LASTED ONLY 3 WEEKS, COULDN'T TAKE THE PRESSURE. OZ THEN HIRES BRAD GILLIS (EX NIGHTRANGER) TO FILL TORME'S SPOT.

ON JULY 4,1982 OZZY GETS MARRIED TO SHARON ON THE TROPICAL ISLAND OF MAUI.
HE SAID HE PICKED THE 4TH OF JULY TO GET MARRIED SO HE WOULD REMEMBER THE
DATE BECAUSE OF THE HOLIDAY (INDEPENDENCE DAY). TOMMY ALDRIDGE WAS OZZY'S
BEST MAN. OZZY DIDN'T LIKE THE HAWAIIAN BAND PLAYING THERE SO HE KICKED
THEM OUT AND DISTRIBUTED THEIR INSTRUMENTS TO HIS BAND AND PLAYED SOME
ACOUSTICAL VERSIONS OF GOODBYE TO ROMANCE,PARANOID AND SOME OLD BEATLES
SONGS. (A TAPE I WOULD LOVE TO GET MY HANDS ON!) SHARON ALSO TOOK OVER THE
ROLE AS OZZYS NEW MANAGER BY BUYING THE CONTRACT FOR OZZ FROM HER OWN FATHER!


IN AN EFFORT TO GET OUT OF A STICKY SITUATION,OZZY IS FORCED TO PUT OUT A
LIVE ALBUM CALLED "SPEAK OF THE DEVIL", ALSO CALLED "TALK OF THE
DEVIL" (NON-U.S.) THIS ALBUM WAS ORIGINALLY GOING TO BE A LIVE ALBUM TRIBUTE
RANDY RHOADS, BUT OZZY THOUGHT IT WAS TOO SOON AFTER HIS DEATH TO RELEASE
THAT KIND OF MATERIAL. IF YOU'VE EVER SEEN THE COVER, YOU KNOW THAT OZZY HAS
RASBERRY JAM (LOOKS LIKE BLOOD CLOTS) SPITTING OUT OF HIS MOUTH. WELL,A FEW
HUNDRED ALBUMS HIT THE STORE SHELVES WITH A STICKER THAT COVERED THAT UP AND
MADE OZZY LOOK NORMAL (OR HALF WAY NORMAL). AS SOON AS OZZY FOUND THIS OUT
HE THEM ALL RECALLED AND SENT OUT THE WAY HE WANTED IT TO BE.


IF YOU EVER WONDERED WHAT ALL THAT CRYPTIC WRITING IS AROUND OZZY ON THE
FRONT COVER OF "SPEAK OF THE DEVIL" THIS IS WHAT IT SAYS: HOWDY. DIAL A
DEMON PRODUCTIONS IN CONJUNCTION WITH GRAVEYARD GRAPHICS,PROUDLY PRESENTS
THE MADMAN OF ROCK DUMPING IN EL SATANOS TOILETTO. THE INSIDE MAGIC WORDS
REVEAL A MORE SERIOUS NOTE - A TRIBUTE TO RANDY RHOADS,AXEMAN. THAT KID WAS
MY LIFELINE, Y'KNOW? HE WAS SUCH A DYNAMIC PLAYER AND I'D RATHER NOT TALK
ABOUT IT ANYMORE BECAUSE IT CUTS ME UP EVERY DAY OF MY LIFE. RANDY RHOADS
REST IN PEACE AND LOVE.

SOON AFTER THE RELEASE OF "SPEAK OF THE DEVIL" OZZY SHAVES EVERY INCH OF HAIR OFF OF HIS HEAD. ALOT OF PEOPLE THINK IT WAS THE RABBIE SHOTS FROM THE BAT INCIDENT THAT MADE HIS HAIR FALL OUT,BUT THIS ISN'T TRUE AT ALL. I HAVE A VIDEO TAPED INTERVIEW IN WHICH HE EXPLAINS "I WAS USING ALOT OF GELS AND OILS IN MY HAIR, AND WITH THOSE BRIGHT STAGE LIGHTS BEATING DOWN ON THAT ALL NIGHT LONG,IT WAS MAKING HIS HAIR VERY BRITTLE AND DAMAGED. SO ONE DAY I JUST SHAVED IT ALL OFF!"
***** 1983 ***** BAND MEMBER CHANGES, GILLIS GOES BACK TO NIGHT RANGER (GOOD MOVE!)AND OZZY HIRES JAKE E LEE. OZZY RELEASES "BARK AT THE MOON" MORE BAND MEMBER CHANGES, ALDRIGE LEAVES,AND CARMINE APPICE IS HIRED FOR DRUMS. TWO MONTHS LATER HE IS FIRED AND ALDRIDGE COMES BACK. SEPTEMBER 2ND,1983 OZZY HAS HIS FIRST OFFSPRING WITH SHARON: A DAUGHTER, AIMEE RACHEL (MIDDLE NAME POSSIBLY NAMED AFTER RACHEL YOUNGBLOOD WHO DIED IN THE PLANE ACCIDENT WITH RANDY.) OZZY MADE TWO VIDEOS FOR THIS ALBUM. THE FIRST WAS FOR "BARK AT THE MOON" WHERE IT TOOK OVER 8 HOURS TO PREPARE OZZY IN FULL WOLF COSTUME. THE SECOND VIDEO WAS FOR "SO TIRED" IN WHICH THERE IS A SEEN A MIRROR EXPLODES IN HIS FACE. WHEN THE MIRROR EXPLODED,OZZY GOT SHARP GLASS BLASTED INTO HIS THROAT. NEEDLESS TO SAY, HE COULDN'T SING FOR A LITTLE WHILE.
***** 1984 **** THE BAND LINE UP IS NOW DON AIREY ON KEYBOARDS,JAKE E LEE ON GUIATR,BOB DAISLEY ON BASS AND TOMMY ALDRIGE ON DRUMS. OZZY ADMITS HIMSELF TO THE BETTY FORD CLINIC FOR REHAB OF DRUG AND ALCOHOL ADDICTION. OCTOBER OZZY BECOMES A FATHER AGAIN TO ANOTHER DAUGHTER - KELLY.
***** 1985 ***** IN JUNE OZZY REUNITES WITH BLACK SABBATH FOR THE FIRST TIME SINCE THEIR BREAK UP TO DO 3 SONGS AT THE LIVE AID CONCERT. NOVEMBER 8,1985, OZZY HAS ANOTHER SON, JACK.
***** 1986 *****

"THE ULTIMATE SIN" ALBUM IS RELEASED. ONCE AGAIN,OZZY RAN INTO TROUBLE WITH THE LOOKS OF HIS ALBUM COVER. THE ORIGINAL COVER HAD 3 CRUCIFIXES ATOP A HILL IN THE BACK GROUND AND THE GIRL HAD NO PANTS ON. OZZY HAD ACTUALLY WRITTEN A WHOLE ALBUM BEFORE THE "ULTIMATE SIN",BUT SCRAPPED THE WHOLE THING AND STARTED FROM SCRATCH BECAUSE HE WASN'T HAPPY WITH IT. MORE BAND MEMBER CHANGES INCLUDED RANDY CASTILLO TAKING OVER DRUMS, PHIL SOUSSAN TAKING OVER ON BASS,AND JOHN SINCLAIR TAKING OVER ON KEYBOARDS. THE ULTIMATE SIN TOUR PROVED TO BE AN EXPENSIVE ONE. AT THE MEADOWLANDS SPORTS COMPLEX IN NEW JERSEY,OZZY ENCOURAGED FANS TO RIP UP SEATS COSTING HIM $80,000 IN DAMAGE. OZZY IS SUED BY PARENTS OF A BOY BY THE NAME OF JACK McKULUN, WHO COMMITTED SUICIDE WHILE LISTENING TO THE "SUICIDE SOLUTION" SONG. OZZY IS SAID TO HAVE SUBLIMINAL MESSAGES IN HIS MUSIC. OZZY WINS (OF COURSE,DON'T BE SILLY!)
***** 1987 ***** THE LONG AWAITED "RANDY RHOADS TRIBUTE ALBUM" IS RELEASED. A LIVE RECORDING FEATURING THE LATE AX-MAN. OZZY PICKS UP A NEW AX-MAN BY THE NAME OF ZAKK WYLDE,BASS IS TAKEN OVER BY BOB DAISLEY JULY 1987 OZZY PLAYS WORMWOOD SCRUBS PRISON, THE ONLY GIG THAT YEAR.


***** 1988 ***** THE "NO REST FOR THE WICKED" ALBUM IS RELEASED. THIS ALBUM ALSO HAD TROUBLES WITH IT'S COVER. THE ORIGINAL COVER WAS SIMILIAR TO THE ONE THAT WAS RELEASED EXCEPT OZZY HAD A CROWN OF THORNS ON HIS HEAD,AND THE THREE GIRLS WERE HOLDING CRUCIFIXES.
***** 1989 ***** JUNE 4TH, OZZY HAS HIS FIRST PAY-PER-VIEW CONCERT BROADCAST TO ALL PAYING CITIZENS OF THE U.S. THE CONCERT WAS PERFORMED LIVE AT THE TOWER THEATER IN PHILLADELPHIA,P.A. AUGUST 12TH, OZZY PLAYS THE MOSCOW PEACE FESTIVAL IN RUSSIA WITH OTHER BIG ACTS SUCH AS MOTLEY CRUE,BON JOVI,THE SCORPIONS,AND SKID ROW. A WEEK AFTER THE SHOW, OZZY BACK AT HOME FINDS A CASE OF RUSSIAN VODKA THAT SOMEONE GAVE HIM AT THE FESTIVAL. HE DOWNS THE 4 BOTTLES AND HITS THE ULTIMATE BOTTOM. OZZY'S EXACT WORDS TO HIS WIFE SHARON WERE, "WE'VE DECIDED THAT YOU'VE GOT TO GO.", AND HE STARTED CHOKING HER. SHARON HIT THE PANIC BUTTON ON THE HOUSE ALARM AND THE COPS CAME AND TOOK OZZY AWAY. OZZY WOKE UP THE NEXT MORNING IN JAIL. THE COPS TOLD HIM YOU'VE BEEN ARRESTED FOR ATTEMPTED MURDER OF YOUR WIFE, AND HE SAID, "YOU'VE GOT TO BE KIDING,I DON'T REMEMBER A THING!" BY COURT ORDER OZZY WOULD SPEND THE NEXT 3 MONTHS IN RE-HAB AWAY FROM HIS FAMILY.
**** 1990 ***** GEEZER BUTLER RETURNS TO OZZY TO PLAY BASS AND RECORDS A LIVE ALBUM NAMED "JUST SAY OZZY",A 6 SONG ALBUM TO HOLD FANS OVER FOR A WHILE. 1990 ALSO SAW THE RELEASE OF THE NOW IMPOSSIBLE TO FIND "TEN COMMANDMENTS" THIS WAS A LIMITED EDITION OF OZZY'S BEST SONGS.
***** 1991 ***** THE "NO MORE TEARS" ALBUM IS RELEASED. THIS ALBUM WAS ORIGINALLY GOING TO BE CALLED "SAY HELLO TO HEAVEN". GEEZER LEFT OZZY AGAIN AND MIKE INEZ TOOK OVER ON BASS. OZZY COLLABORATES WITH LEMMY OF MOTORHEAD IN THE WRITING PROCESS FOR THIS ALBUM. OZZY EVEN TAKES HOME A GRAMMY FOR "I DON'T WANT TO CHANGE THE WORLD".

OZZY ANNOUNCES HIS RETIREMENT TOUR,THE "NO MORE TOURS TOUR". THIS TOUR WOULD
MARK THE LAST TOUR OZZY WOULD EVER PERFORM (ACCORDING TO OZZY) HE STATED
THAT HE WAS RETIRING FROM THE MUSIC BUSINESS TO SPEND MORE TIME WITH HIS
FAMILY.

***** 1992 *****NOVEMBER 15TH, ON THE LAST STOP OF THE "NO MORE TOURS TOUR",BLACK SABBATH REUNITES FOR THE 2ND TIME SINCE THEIR BREAKUP IN 1978 AT COSTA MESA,
CALIFORNIA. AT THE END OF THE SHOW A SIGN IS LIT UP WHICH READS "OZZY
OSBOURNE, I'LL BE BACK"

***** 1993 - 1994 *****A DOUBLE LIVE ALBUM,AND VIDEO IS RELEASED BY THE NAME OF "LIVE AND LOUD". THIS WAS RECORDED AROUND THE WORLD ON THE "NO MORE TOURS TOUR" 91-92. IT ALSO INCLUDED ONE LIVE TRACK FROM THE SABBATH REUNION, "BLACK SABBATH".

OZZY SPENDS THESE 2 YEARS AT HOME WITH HIS FAMILY,TAKING IT EASY AND
ENJOYING LIFE. BUT THE EASY LIFE IS ACTUALLY DRIVING HIM NUTS,HE BADLY
WANTS TO GET OUT OF THE HOUSE AND START DOING WHAT HE DOES BEST, SINGING.

HE DOES A LITTLE WRITING WITH STEVE VAI AND OTHER MUSICAL TALENTS. ALL IN
HE WRITES ABOUT 40 SONGS.

***** 1995 *****

OZZY ANNOUNCES TO THE WORLD THAT HE IS BACK AND HERE TO STAY. HE RELEASES HIS NEW ALBUM "OZZMOSIS" WHICH FEATURED GEEZER ON BASS,ZAKK ON GUITAR, AND DEAN CASTRONOVO ON DRUMS. SADLY THERE WAS NO STEVE VAI TO BE SEEN ON THIS ALBUM (I WOULD HAVE LOVED TO HEAR THAT),BUT THERE WAS CREDIT TO STEVE IN HELP OF WRITING OZZYS DEDICATION TO HIS SON JACK, "MY LITTLE MAN". ALOT OF PEOPLE HAVE HEARD RUMORS THAT THE ORIGINAL TITLE OF OZZMOSIS WAS GOING TO BE CALLED X-RAY. THIS IS NOT TRUE, X-RAY WAS THE NAME OF THE BAND THAT OZZY WAS PUTTING TOGETHER WITH STEVE. OZZY RECORDS OZZMOSIS DRUG/LIQUOR FREE FOR THE FIRST TIME! ZAKK ONLY STICKS AROUND TO RECORD THE STUDIO ALBUM, AND THEN HE'S OFF TO WORK WITH HIS OWN SOLO PROJECT "PRIDE AND GLORY". A NEW AX-MAN BY THE NAME OF JOE HOLMES TAKES OVER. JOE HAS SAID THAT RANDY RHOADS ACTUALLY USED TO TEACH HIM WHEN HE WAS YOUNGER, STRANGE HUH?
***** 1996 ***** OZZY GOES BACK ON THE ROAD AGAIN WITH HIS "RETIREMENT SUCKS" TOUR WITH JOE HOLMES ON AX,MIKE BORDIN (FROM FAITH NO MORE) ON DRUMS, ROBERT TRUJILLIO (FROM SUICIDAL TENDINCIES) ON BASS,AND JOHN SINCLAIR ON KEYBOARDS. SEPTEMBER 1996 OZZY STARTS UP "OZZ-FEST",A HUGE FESTIVAL WITH SLAYER, NEUROSIS, BIOHAZARD, PRONG, FEAR FACTORY, DANZIG AND OTHERS. YOU COULD GET A BODY PIERCING OR A TATTOO, AND EXPERIENCE VARIOUS OTHER THINGS THERE. DURING THE '96 TOUR OZZY HAS TO CANCEL/CUT SHORT NUMEROUS CONCERT GIGS DUE TO ILLNESS AND VOICE/THROAT PROBLEMS.
***** 1997 ***** OZZY STARTS HIS OWN RECORD LABEL "OZZ RECORDS" IN COLABORATION WITH RED ANT RECORDS (WHICH WENT BELLY UP ABOUT 6 MONTHS LATER) AND RELEASES A LIVE ALBUM AND VIDEO NAMED "THE OZZFEST". THE ALBUM CONSISTED OF ONE SONG FROM EACH OF THE BANDS THAT PLAYED ON THE '96 OZZFEST TOUR. THE MATERIAL WAS RECORDED AT THE GLEN HELEN BLOCK-BUSTER PAVILION,DEVORE, CALIFORNIA 10/26/96, AND THE DESSERT SKY PAVILION, PHOENIX, ARIZONA. OZZY TEAMS UP WITH TYPE O NEGATIVE TO DO A SONG CALLED "PICTURES OF MATCHSTICK MEN" WHICH IS ON THE SOUNDTRACK TO HOWARD STERNS MOVIE "PRIVATE PARTS". OZZY ALSO HAS A SMALL CAMEO PART IN HIS MOVIE. OZZY ANNOUNCES THAT HE WILL BE REUNITING WITH BLACK SABBATH, EXCLUDING THE DRUMMER BILL WARD FOR CREATIVE DIFFERENCES AT THE UPCOMING SUMMER OZZFEST. THE BAND KIND OF THOUGHT THAT BILL COULDN'T HANDLE THE TOURING ANY MORE,AND BILL HAD ALSO BEEN WORKING ON HIS NEW SOLO ALBUM SO THINGS JUST DIDN'T WORK OUT. MAY 24TH, OZZY KICKS OFF HIS OZZFEST TOUR IN V.A. REUNITING WITH TONY IOMMI AND GEEZER BUTLER. CONTROVERSY SURROUNDS OZZY AGAIN AS HE WANTS TO TAKE HIS OZZ-FEST OUT ON THE ROAD WITH MARILYN MANSON. (A BAND KNOWN TO DO SOME UN-EARTHLY ACTS ON STAGE) GIANTS STADIUM IN NJ TRY TO CANCEL THE CONCERT BECAUSE OF MANSON,BUT OZZY TAKES NJ TO COURT AND WINS THE RIGHT TO PLAY! JUNE 17TH OZZY CAUSES A RIOT AT AN OZZFEST CONCERT IN COLUMBUS O.H. BY NOT SHOWING UP. ANGRY FANS BROKE WINDOWS,UPROOTED TREES,SET VARIOUS THINGS ON FIRE, AND EVEN FLIPPED OVER A CAR. OZZY APPARENTLY HAD SOME THROAT PROBLEMS AND MADE UP THE SHOW ON A LATER DATE. NOVEMBER 11TH "THE OZZMAN COMETH" IS RELEASED. A GREATEST HITS PACKAGE WHICH FEATURES 4 SO CALLED "BASEMENT TAPES" OF EARLY SABBATH PERFORMING. THE DOUBLE CD ALSO INCLUDED A BRAND NEW SONG ENTITLED "BACK ON EARTH", AN INTERVIEW, AND MULTIMEDIA SOFTWARE INCLUDING SCREEN SAVERS, A GAME, MOVIES, AND MORE!

DECEMBER 4TH & 5TH, THE ORIGINAL BLACK SABBATH REUNITES WITH ALL 4 ORIGINAL BAND MEMBERS AT THE NEC IN BIRMINGHAM,UK. THESE 2 CONCERTS ARE SAID TO BE RELEASED AS A LIVE ALBUM AND VIDEO IN OCTOBER 1998 WITH 2 NEW STUDIO TRACKS.
***** 1998 ***** OZZY GETS HIS OLD BAND BACK TOGTHER...ZAKK ON GUITAR, CASTILLO ON DRUMS, AND INEZ ON BASS BUT IT ONLY LASTS FOR A SHORT TOUR. ZAKK, AND RANDY LEAVE AGAIN AND BACK COME JOE HOLMES AND MIKE BORDIN.

DID YOU KNOW?

....THAT OZZY'S OLD HOME IN L.A. IS WHERE DON JOHNSON AND MELANIE GRIFFITH USED TO LIVE?

....THAT SABBATH DIDN'T RELEASE A SINGLE AFTER "PARANOID" FOR A FEW YEARS?

THEY FELT THAT THEIR AUDIENCE WAS BECOMING TO TEENY-BOPPERISH!

....THAT OZZY ONCE GOT STABBED IN THE STOMACH WITH A SCREWDRIVER AT A DANCE?

....THAT OZZY COLLECTS VICTORIAN ART?

....THAT THE GIRL IN THE "SHOT IN THE DARK" VIDEO WAS A CHEERLEADER FOR THE L.A. RAMS?

....THAT OZZY WAS GOING TO APPEAR IN A MIAMI VICE EPISODE BUT WAS PULLED BECAUSE OF THE "SUICIDE SOLUTION" DEBATE WHERE A YOUNG MAN KILLED HIMSELF LISTENING TO OZZYS MUSIC?

....THAT ZAKK WYLDE IS FROM NEW JERSEY?

....THAT THE ORIGINAL COVER FOR THE ULTIMATE SIN WAS PULLED BECAUSE THE GIRL HAD NO PANTS ON AND THERE WERE 3 CRUCIFIXES ON TOP A HILL IN THE BACKGROUND?

....THAT THE REASON OZZY ONCE SHAVED HIS HEAD WAS BECAUSE OF ALL THE OILS, AND GELS HE WAS USING COMBINED WITH THE BRIGHT STAGE LIGHTS MADE HIS HAIR BRITTLE,DRY,AND VERY DAMAGED? IT HAD NOTHING TO DO WITH THE BAT BITING.

....THAT OZZY WON A GRAMMY FOR "I DON'T WANT TO CHANGE THE WORLD" FROM "LIVE AND LOUD"?

....THAT OZZY HAS A TATOO THAT READS "THANKS" ON THE PALM OF HIS HAND? .

...THAT THE WORDS BODGE AND FLAPS WHICH ARE HEARD IN SOME OZZY SONGS MEANS VAGINA AND BREASTS? EXAMPLE: X-RATED DEMON THAT LIVES IN MY HEAD, HUNGRY FOR BODGE AND HE WANTS TO BE FED - NO BONE MOVIES

....THAT OZZY WROTE THE SONG "MAMA,I'M COMING HOME" FOR HIS WIFE SHARON? OZZY CALLS HER "MAMA" ....THAT OZZY WROTE THE SONG "GOODBYE TO ROMANCE" AS A FAREWELL TO SABBATH?

....THAT OZZY HAS SOLD OVER 35 MILLION ALBUMS? ....THAT THE BAND OZZY WAS PUTTING TOGETHER WITH STEVE VAI WAS GOING TO BE CALLED X-RAY?

....THAT AT THE END OF CRAZY TRAIN,THE GUY LAUGHING AND SAYING "EGG" IS NOT OZZY?

WHEN OZZY WAS IN THE STUDIO RECORDING THIS SONG HE WAS FOOLING AROUND WITH AN OSCILATOR (A DEVICE THAT CONTORTS YOUR VOICE) WHEN HE ASKED A GUY IN THE STUDIO WHAT HE HAD FOR BREAKFAST. THE GUY SAID "AN EGG", AND OZZY TURNED THE NOB AND PRODUCED THAT EFFECT!

....THAT OZZY HAD TO PAY $172,000 FOR THE DAMAGE THAT FANS CAUSED AT A 1986 CONCERT AT THE MEADOWLANDS, NJ?

....THAT RANDY RHOADS WROTE THE SONG "DEE" FOR HIS MOM DELORES?

....THAT ZAKK WYLDE FIRST HEARD THAT OZZY WAS LOOKING FOR A GUITARIST FROM THE HOWARD STERN RADIO SHOW?

....THAT OZZY HAS HAD HIS DRAGON TATOO RE-COLORED 2 TIMES SINCE HE ORIGINALLY GOT IT?

....THAT OZZY HAS HAD CAMEO PARTS IN 3 MAJOR MOVIES? HE PLAYED A PRIEST IN "TRICK OR TREAT", A BAND MANAGER IN "THE JERKY BOYS MOVIE", AND HIMSELF IN "HOWARD STERNS PRIVATE PARTS"

....THAT OZZY OWNS 6 DOGS? THEIR NAMES ARE BALDY,SUGAR,SONNY,RAIDER,BUSTER AND PHOEBE.

....THAT OZZY'S "SPEAK OF THE DEVIL" ALBUM WAS ORIGINALLY RELEASED WITH A STICKER OVER OZZY'S MOUTH TO MAKE OZZY LOOK NORMAL (INSTEAD OF THE RASPBERRY'S POURING OUT OF HIS MOUTH)?

OZZY PUT A QUICK STOP TO THAT AND ONLY A FEW ALBUMS MADE IT TO THE PUBLIC.

....THAT OZZY ONCE SET A TOTAL STRANGERS NEWSPAPER ON FIRE WHILE HE WAS READING IT AT AN AIRPORT? ....THAT SABBATH ONCE PERFORMED IN WHITE TIES,TAILS,TOP HATS AND CANES AT THE WHISKEY IN L.A. IN THE EARLY 70'S?

....THAT LEMMY FROM MOTORHEAD HELPED OZZY WRITE THE LYRICS TO 4 OF THE SONGS ON "NO MORE TEARS"? ....THAT OZZY USED TO SHAVE PEOPLES EYE BROWS OFF WHILE THEY SLEPT?

....THAT ALL OF OZZY'S ALBUMS HAVE GONE PLATINUM OR BETTER?

....THAT "MR. TINKERTRAIN" ON THE ALBUM "NO MORE TEARS" IS NAMED AFTER MR. TINKERTRAINS BAR IN BEARSVILLE,NY?

....THAT TONY IOMMI WAS ONCE ENGAGED TO LITA FORD?

....THAT THE ALBUM "NO MORE TEARS" WAS ORIGINALLY GOING TO BE CALLED "SAY HELLO TO HEAVEN"?

....THAT OZZY IS A GOD FATHER TO ZAKK WYLDE'S CHILD?

....THAT IT'S TONY IOMMI COUGHING AT THE START OF "SWEAT LEAF" ON "MASTERS OF REALITY"? HE HAD JUST HAD A PUFF OF THE MAGIC HERB!

....THAT BILL WARD WAS ALMOST FIRED FROM BLACK SABBATH IN 1972? TWO REASONS, HE COULDN'T GET THE DRUM TRACK DOWN FOR "CORNUCOPIA" AND HE WAS HEAVILY HOOKED ON NARCOTICS.

....THAT THE SONG "BLOODBATH IN PARADISE" ON "NO REST FOR THE WICKED" IS ABOUT THE MASS-MURDERER CHARLES MANSON?

....THAT BLACK SABBATH REHEARSED FOR THE "SABBATH BLOODY SABBATH" ALBUM IN A CASTLE THAT WAS CLAIMED TO BE HAUNTED? OZZY AND BILL SAY THEY SAW THE GHOST!

....THAT OZZY HAD A WHOLE BRAND NEW ALBUM WRITTEN IN 1987 BUT HE DIDN'T LIKE IT SO HE SCRAPPED THE WHOLE THING?

....THAT BILL WARD WAS VERY CLOSE WITH THE LATE JOHN BONHAM OF LED ZEPPELIN? THEY ACTUALLY GREW UP TOGETHER AND BECAME REGULAR DRINKING BUDDIES.

....THAT THE LITTLE BOY ON THE COVER OF THE "DIARY OF A MADMAN" ALBUM IS OZZY'S SON LOUIS FROM HIS FIRST MARRIAGE?

....THAT THE BLACK SABBATH SONG "NIB" WAS NAMED AFTER BILL WARDS BEARD? THE GUYS IN THE BAND STARTED CALLING HIM NIBBY (AS IN THE TOP OF A PEN NIB) BECAUSE HIS BEARD CAME TO A POINT. (NO,IT'S NOT NATIVITY IN BLACK)

....THAT GEEZER WAS THE YOUNGEST OF THE FOUR IN BLACK SABBATH?

....THAT OZZY ONCE PAINTED HIMSELF PURPLE FROM HEAD TO TOE WHEN FIRST GETTING ON THE CLUB SCENE BACK IN '69 TO ATTRACT ATTENTION AND IT DIDN'T WORK? NOBODY PAID ATTENTION AND IT TOOK HIM HOURS TO GET THE PAINT OFF!!!

....THAT BLACK SABBATH'S FIRST SELF TITLED ALBUM WAS RELEASED ON FRIDAY THE 13TH,FEBRUARY 1970 AND WAS RECORDED IN JUST 12 HOURS FOR $900?

....THAT TONY ONCE PUT LIGHTER FLUID ON BILL WARDS LEGS AND SET THEM ON FIRE FOR A JOKE?

....THAT THE SONG "S.I.N." ON THE "NO MORE TEARS ALBUM" STANDS FOR SHADOWS IN THE NIGHT?

....THAT TONY IOMMI GOT THE TOPS OF TWO OF HIS FINGERS OF HIS RIGHT HAND CHOPPED OFF WORKING ON SOME MACHINERY AS A CHILD AND TO THIS DAY STILL WEARS PROTECTIVE FINGER STALLS TO PLAY THE GUITAR? ....THAT OZZY PLAYS THE HARMONICA ON THE SONG "THE WIZARD"? ....THAT GEEZER BUTLER WROTE MOST OF THE LYRICS FOR THE BLACK SABBATH SONGS?

....THAT TONY IOMMI ONCE PUNCHED OZZY ON THE NOSE FOR RIPPING UP BIBLES PLACED IN HOTELS BY THE GIDEONS?

....THAT RANDY RHOADS PLAYED WITH QUIET RIOT BEFORE GETTING HOOKED UP WITH OZZY?

....THAT OZZY MADE HIS OWN TATOOS WHILE IN JAIL WITH A PIECE OF GRAPHITE? THE FAMOUS O-Z-Z-Y ACROSS HIS HANDS AND A SMILEY FACE ON EACH KNEE IS HIS OWN WORK!!!

....THAT OZZY ONCE WORKED IN A SLAUGHTER HOUSE?

....THAT THE SONG "S.A.T.O" ON "DIARY OF A MADMAN" STANDS FOR SAILING ACROSS THE OCEAN? OR DOES IT STAND FOR SAIL AWAY TO OZZ?

....THAT THE SONG OZZY USED TO PLAY BEFORE HIS CONCERTS WAS FROM A REAL OPERA CALLED "CARMINA BURANA" AND THE NAME OF THE SONG IS "O FORTUNA"?

....THAT WHEN BLACK SABBATH FIRST STARTED PLAYING CLUBS THEY WOULD GET REAL MAD BECAUSE THE AUDIENCE WOULD JUST SIT THERE AND TALK TO EACH OTHER? SO THE BAND JUST KEPT TURNING THE VOLUME UP UNTIL IT WAS IMPOSSIBLE TO HOLD A CONVERSATION!

....THAT ONE TIME OZZY WALKED TO BAND REHERSAL BARE FOOT BECAUSE HE COULDN'T AFFORD NEW SHOES? ....THAT BACK IN 1970 BLACK SABBATH HAD SOME EQUIPMENT STOLEN FROM A GIG AND GOT BEAT UP BY SKINHEADS? THIS CAUSED OZZY TO WRITE THE SONG "FAIRIES WEAR BOOTS"

....THAT OZZY HAS TRIED TO TAKE HIS OWN LIFE SEVERAL TIMES? HIS FIRST ATTEMPT WAS AT THE YOUNG AGE OF 14.

....THAT OZZY ONCE STOLE $500 FROM HIS WIFE SHARON (BEFORE THEY WERE MARRIED) TO BUY COCAINE? ....THAT WHEN OZZY WAS A YOUNG KID,HE WOULD SPRAY PAINT "OZZY-IRON MAN" AND "IRON MAIDEN" AROUND THE ASTON AREA WHERE HE LIVED?

....THAT OZZY'S WIFE SHARON IS HIS CURRENT MANAGER?

....THAT THE SONG "A.V.H" ON THE ALBUM "NO MORE TEARS" STANDS FOR ALCOHOL,VALIUM,AND HASH?

....THAT THE SONG "MIRACLE MAN" ON "NO REST FOR THE WICKED" IS ABOUT THE PREACHER JIMMY SWAGGART? ....THAT BLACK SABBATH "VOLUME 4" WAS SUPPOSED TO BE NAMED "SNOWBLIND" BUT THE RECORD COMPANY WOULDN'T ALLOW IT?

....THAT ZAKK WYLDE'S REAL NAME IS ZACH ADAMS?

....THAT OZZY LIKES TO HAVE A TANK OF OXYGEN ON THE SIDE OF THE STAGE WHEN HE PERFORMS?

....THAT OZZY PLAYS THE SYNTHESIZER ON "WHO ARE YOU" ON THE "SABBATH BLOODY SABBATH" ALBUM? IT IS ACTUALLY THE VERY FIRST SONG THAT OZZY WROTE THE NOTES FOR.

....THAT OZZY ONCE SAID HE WAS GOING TO RECORD A "FAREWELL TO RANDY RHOADS" ALBUM WITH ZAKK PLAYING SONGS THAT OZZY AND RANDY WROTE TOGETHER?

ALBUM/VIDEO DISCOGRAPHY

BLACK SABBATH

BLACK SABBATH 1970

PARANOID 1970

MASTER OF REALITY 1971

VOLUME 4 1972

SABBATH BLOODY SABBATH 1974

SABOTAGE 1975

WE SOLD OUR SOULS FOR ROCK AND ROLL 1975

TECHNICAL ECSTASY 1976

GREATEST HITS 1977

NEVER SAY DIE 1978

LIVE AT LAST 1980 (LIVE)

OZZY OSBOURNE

BLIZZARD OF OZZ 1980

DIARY OF A MADMAN 1981

SPEAK OF THE DEVIL 1982

LIVE E.P. (3 SONGS) 1982(LIVE)

BARK AT THE MOON 1983

THE ULTIMATE SIN 1986

RANDY RHOADS TRIBUTE 1987 (LIVE)

NO REST FOR THE WICKED 1988

THE TEN COMMANDMENTS 1990

JUST SAY OZZY 1990 (LIVE)

NO MORE TEARS 1991

LIVE AND LOUD 1993 (LIVE)

OZZMOSIS 1995

THE OZZMAN COMETH 1997 (GREATEST HITS)

VIDEOS

THE BLACK SABBATH STORY VOLUME 1 Warner Reprise Video 1991 - 60 minutes

THE BLACK SABBATH STORY VOLUME 2 Warner Reprise Video 1992 - 50 minutes

BLACK SABBATH - NEVER SAY DIE Castle Hendring - 60 min

OZZY OSBOURNE - SPEAK OF THE DEVIL Vap Video 1982 - 90 minutes

OZZY OSBOURNE - BARK AT THE MOON Monowise/Company III 1984 - 90 minutes

OZZY OSBOURNE - THE ULTIMATE OZZY CBS/Fox Video 1986 - 85 minutes

OZZY OSBOURNE - WICKED VIDEOS CMV Enterprises 1988 - 18 minutes

OZZY OSBOURNE - DON'T BLAME ME SMV Enterprises 1991 - 100 minutes

OZZY OSBOURNE - LIVE AND LOUD Epic 1993 - 112 minutes

OZZY OSBOURNE - THE OZZFEST Red Ant, Ozz Records 1997 - 60 minutes

OZZY OSBOURNE - OZZY GOES TO HOLLYWOOD 1997, 15 minutes

NON-ALBUM/B-SIDE SONGS

"EVIL WOMAN" SABBATH 1969 - B-SIDE TO WICKED WORLD SINGLE

"YOU LOOKIN' AT ME LOOKIN' AT YOU" OZZY 1981 - B-SIDE TO FIRST ISSUE OF CRAZY TRAIN SINGLE "YOU SAID IT ALL" OZZY 1982 - MINI LIVE E.P.

"SPIDERS" OZZY 1984 - REPLACES SLOW DOWN ON JAPAN BARK AT THE MOON

"ONE UP THE B-SIDE" OZZY 1984 - B-SIDE TO BARK AT THE MOON SINGLE

"PARTY WITH THE ANIMALS" OZZY 1991 - EXTRA TRACK ON JAPAN NO MORE TEARS

"DON'T BLAME ME" OZZY 1991 - EXTRA TRACK ON JAPAN NO MORE TEARS

"CHANGES" (VERSION WITHOUT LIVE AUDIENCE) OZZY 1993 - LIVE AND LOUD SAMPLER

"AIMEE" OZZY 1995 - B-SIDE TO SEE YOU ON THE OTHER SIDE JAPAN SINGLE

"WHOLE WORLDS FALLING DOWN" OZZY 1995 - EXTRA TRACK ON JAPAN OZZMOSIS

"VOODOO DANCER" OZZY 1995 - B-SIDE TO SEE YOU ON THE OTHER SIDE JAPAN SINGLE

"LIVING WITH THE ENEMY" OZZY 1995 - B-SIDE TO PERRY MASON JAPAN SINGLE

COMPILATION/GUEST APPEARANCES

"SHAKE YOUR HEAD,LET'S GO TO BED" VERSION #1 OZZY/WAS NOT WAS 1983 - BORN TO LAUGH AT TORNADOES "SHAKE YOUR HEAD,LET'S GO TO BED" VERSION #2 OZZY/KIM BASINGER,WAS NOT WAS 1992 - HELLO DAD,I'M IN JAIL "SHAKE YOUR HEAD,LET'S GO TO BED" VERSION #3 REMIX OZZY/KIM BASINGER,WAS NOT WAS 1992 - SINGLE "CLOSE YOUR EYES" OZZY/LITA FORD 1988 - LITA "PURPLE HAZE" OZZY 1989 - MAKE A DIFFERENCE FOUNDATION, STAIRWAY TO HEAVEN/HIGHWAY TO HELL "LED CLONES" OZZY/GARY MOORE 1989 - AFTER THE WAR "THE URPNEY SONG" OZZY,FRANK BRUNO,BILL CONNOLLY,MIKE BATT,AND THE LONDON PHILHARMONIC ORCHESTRA 1990, MADE FOR THE BRITISH CARTOON - THE DREAMSTONE "JACKS LAND" OZZY/BILL WARD 1990 - WARD ONE:ALONG THE WAY "BOMBERS CAN OPEN BOMB BAYS" OZZY/BILL WARD 1990 - WARD ONE:ALONG THE WAY "THERAPY" OZZY/INFECTIOUS GROOVES 1991 - THE PLAGUE THAT MAKES YOUR BOOTY MOVE "HEY STOOPID" OZZY/ALICE COOPER 1991 - HEY STOOPID "I AIN'T NO NICE GUY" OZZY/MOTORHEAD 1992 - MARCH OR DIE "BORN TO BE WILD" OZZY/MRS.PIGGY 1994 - KERMIT UNPIGGED "IRON MAN" OZZY/THERAPY 1994 - NATIVITY IN BLACK, A TRIBUTE TO BLACK SABBATH "SHE DRIVES ME CRAZY" OZZY/VARIOUS GUESTS 1994 - RELEASED ONLY AS A MUSIC VIDEO "WALK ON WATER" OZZY 1996 - BEAVIS AND BUTTHEAD DO AMERICA MOVIE SOUNDTRACK "WALK ON WATER" OZZY 1996 - BEAVIS AND BUTTHEAD DO AMERICA MOVIE (DIFFERENT THAN SOUNTRACK) "PICTURES OF MATCHSTICK MEN" OZZY/TYPE O NEGATIVE 1997 - HOWARD STERNS PRIVATE PARTS MOVIE SOUNDTRACK

©1998 Deeger Enterprises.

All rights reserved.